---
Part 1. Overview of Metamorphism and Tectonics
Part 2. Introduction to Metamorphism
Part 3. Physical Processes of Metamorphism
Part 4. Introductory Phase Equilibria and Thermodynamics
Part 5. Ultramafic Rocks
Part 6. Mafic Rocks
Part 7. Pelitic Rocks
Part 8. Diffusion
Part 9. Thermobarometry
Part 10. Kinetics
Part 11. Interaction Between Metamorphism and Deformation
Part 12. Metamorphism and Geochronology
Part 13. Metamorphism and Tectonics I
Part 14. Metamorphism and Tectonics II
Thermodynamics Notes
---
Part 3. Physical Processes that Cause Metamorphism
Read Chapters 21-24 of Igneous and Metamorphic Petrology by John Winter
or Chapters 5 & 16 of Igneous and Metamorphic Petrology by Philpotts
Temperature
temperature scales

Celsius, °C, uses 0°C for ice + water at 1 atm, 100°C for water + steam at 1 atm
Kelvin, K, uses 0 K for absolute zero; K = °C + 273 (e.g., room temperature is 298K or 25°C)

heat, q, is energy (calories or Joules) in the form of molecular and atomic vibrations. When hotter, materials undergo more rapid vibrations.
the change in the amount of heat that a material contains is related to its heat capacity CP and the temperature change dT: (CP is the heat capacity at constant pressure; ~1 kJ/kgK for rocks). For example, the amount of heat required to heat 1 m3 of rock of density 3000 kg/m3 20°C is: 1 kJ/kgK * 3000 kg * 20°C = 60,000 kJ. Recall that your suggested daily intake of energy is 2000 "calories", (actually kilocalories), which is equivalent to 8370 kJ (1 cal = 4.184 J).
(geo)thermal gradient:

T = T / z
change in temperature T with depth z
= 5-10 K/km in cold subduction zones
= 20 K/km in stable cratons
= 50 K/km in rifts and magmatic arcs



production of heat in the Earth
The heat of the Earth was produced by its early accretion and continues to be produced by the crystallization of the inner core from the outer core (remember that melting requires heat, so crystallization must give off heat), and the radioactive decay of unstable isotopes or radionuclides (chiefly the decay schemes 235U —> 207Pb, 238U —> 206Pb, 40K —> 40Ar, and 232Th —> 208Pb)
transfer of heat in the Earth
Three processes transfer heat in the Earth:

conduction: the transfer of heat by molecular vibration. Fourier's law states that the heat flux q (flow of heat per unit area and per unit time) is:

q = k T / z

where k is thermal conductivity (~3 J/mKs or ~3 W/mK). For example, in a thermal gradient of 20 K/km, the heat flow that results is 3 W/mK * 0.02 K/m = 60 mW/m2
View diffusion A rough measure of the distance that a thermal pulse can travel in a specific time (or the amount of time required for a thermal pulse to travel a certain distance) is given by the characteristic diffusion distance: where K is the thermal diffusivity (~1E-6 m2/s) and t is time (s). For example, in 1 Ma (3E13 s), the characteristic diffusion distance is SQRT(1E-6 m2/s * 3E13) = ~5 km.




advection: the transfer of heat by motion of rocks
e.g., cold rock is carried deeper in subduction zones
e.g., hot rock is carried upward in dikes





convection: the transfer of heat by buoyancy-driven circulation
Example: as rock in the lower mantle is heated, its density decreases because of thermal expansion, and it rises; as rock in the upper mantle cools, its density increases, and it sinks.
Example: when new magma is injected into a magma chamber, its density is lower than the cooler bulk of the magma chamber, so it rises, while the cooler magma in the chamber sinks.
Arthur Holmes realized as early as 1931 that thermal convection in the mantle drives the plate tectonics of the Earth
convection accounts for about 6X more heat transfer in the mantle than conduction (this ratio of convection to conduction is called the Nusselt number)
View convection

Within a convecting cell, temperature is nearly constant, following an adiabat. At the edge of the cell is a thermal boundary layer where convection changes to conduction. This discontinuity defines the transition between the asthenosphere and lithosphere in Earth.

Pressure
P = g z
where

is density, g the acceleration of gravity, and z depth.
| material | density (g/cm3) | density (kg/m3) |
| --- | --- | --- |
| water | 1 | 1000 |
| sedimentary rock | 2.7 | 2700 |
| mafic rock | 3.0 | 3000 |
| upper mantle | 3.3 | 3300 |
e.g., what is the pressure at the base of a 10 km column of ultramafic rock?
= 3,300 kg/m3 * 10 m/s2 * 10,000 m
= ~3.3E8 kg m s-2 m-3 m
= 3.3E8 N/m2 (recall that N = kg m s-2)
= 3.3E8 Pa (recall that Pa = N/m2)
= 330 MPa (=3 kbar)

hydrostatic pressure: the pressure caused by a column of water. In the upper crust of the Earth, there are enough fractures, cracks, and porosity that the fluid within these voids is under hydrostatic pressure.
hydrostatic pressure gradient: the (vertical) gradient in hydrostatic pressure
lithostatic pressure: the pressure caused by a column of rock
lithostatic pressure gradient: the (vertical) gradient in lithostatic pressure
nonhydrostatic, tectonic stresses have little effect on pressure Typical tectonic stresses in the Earth are <100 MPa, such that a lithostatic pressure of 300 MPa (i.e., ~10 km depth) is affected by less than 30 MPa.

uplift: increase in elevation
exhumation: decrease in vertical separation between a rock and the surface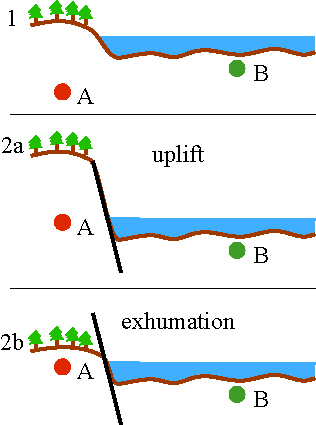 Rates of Exhumation
| process | dz/dt (mm/a or km/Ma) |
| --- | --- |
| burial by sedimentation | 0.01 —> 1 |
| 'burial' by subduction | 10 —> 100 |
| erosional exhumation | -0.1 —> -10 |
| tectonic exhumation | -10 —> -100 |

Data on the rate of erosional exhumation: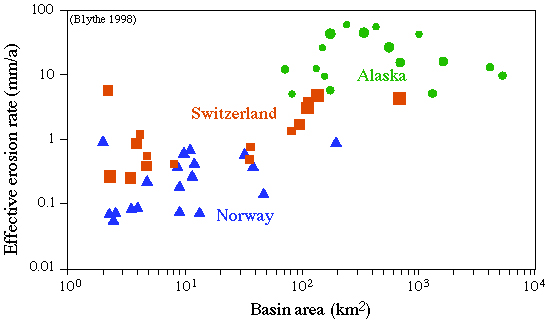 Metamorphic Facies
A metamorphic facies is a set of metamorphic mineral assemblages (parageneses), each for a specific rock compositions, that form over a specific range of P and T. The metamorphic facies are defined for mafic rocks. You should memorize the following simple form of the facies diagram: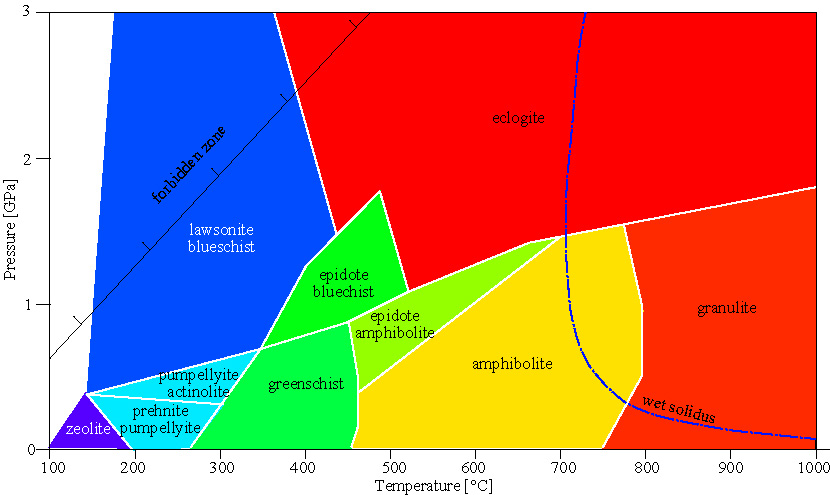 For those interested in more detail, consult this diagram: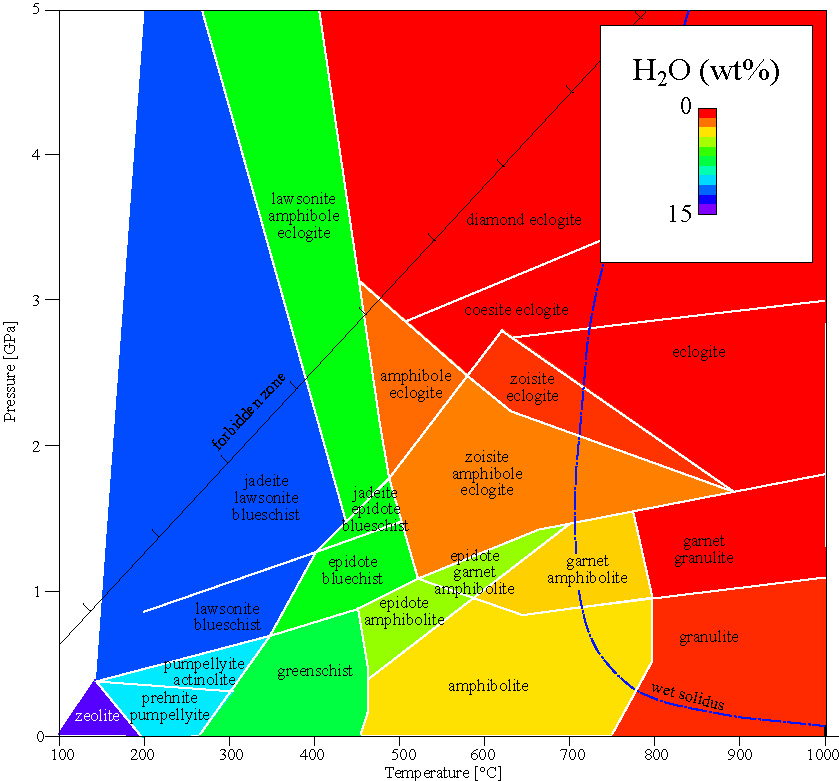 facies
minerals
notes
basalt and gabbro protoliths
plagioclase NaAlSi3O8-CaAl2Si2O8 + pyroxene CaSiO3-MgSiO3-FeSiO3
.
zeolite facies
common zeolites: laumontite, wairakite, analcime (Na,Ca)AlSiO(OH)x
zeolites: channel structure makes them useful for engineering
common textures: in cracks, alteration of feldspar or glass
greenschist facies
albite + epidote + actinolite + chlorite + quartz
albite NaAlSi3O8 takes up Na, Al, Si
epidote CaAlSiO(OH)x takes up Ca
actinolite Ca2(Fe,Mg)5Si8O22(OH)2 takes up Fe, Mg
chlorite (Mg,Fe)(AlSi)O(OH)x
.
albite-epidote amphibolite facies
albite + epidote + hornblende + quartz

albite NaAlSi3O8 takes up Na, Al, Si
epidote CaAlSiO(OH)x takes up Ca
hornblende (K,Na)(Ca,Fe,Mg)(AlSi)O22(OH)2
modal proportion of albite decreases, Na enters amphibole
modal proportion of chlorite decreases, Fe + Mg enters amphibole
amphibolite facies
plagioclase + hornblende + quartz
epidote replaced by intermediate plagioclase
remainder of elements in hornblende
granulite facies
orthopyroxene + clinopyroxene + plagioclase + quartz
must have 2 pyroxenes; can also have hornblende or garnet
blueschist facies
glaucophane Na2Mg3Al2Si8O22(OH)2
lawsonite or epidote CaAlSiO(OH)x
high P, low T
eclogite facies
omphacite (Na,Al,Mg,Fe)Si2O6
garnet (Ca,Mg,Fe,Mn)3Al2Si3O12
high P, high T
coesite-eclogite facies
coesite SiO2
diamond C
majorite Mg4Si4O12
extreme pressure
Granulites look a lot like igneous rocks: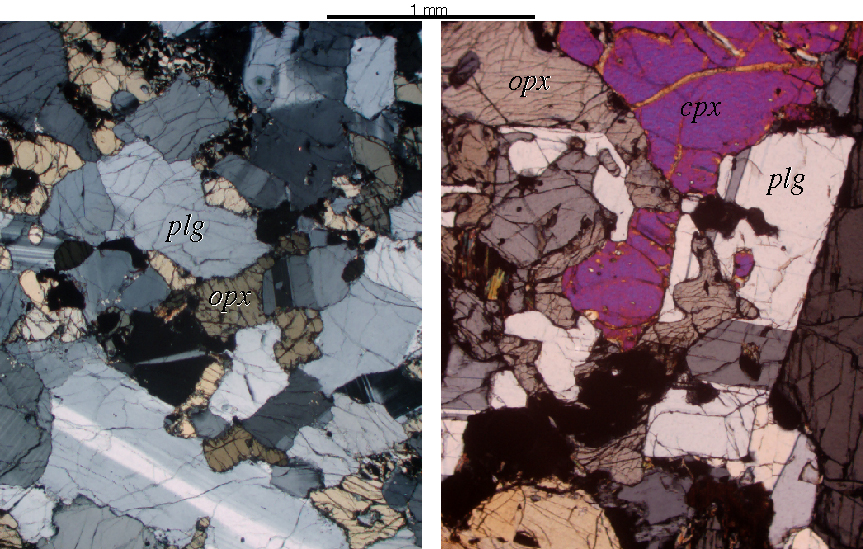 Eclogites consist mostly of two minerals: garnet and Na-rich clinopyroxene known as omphacite: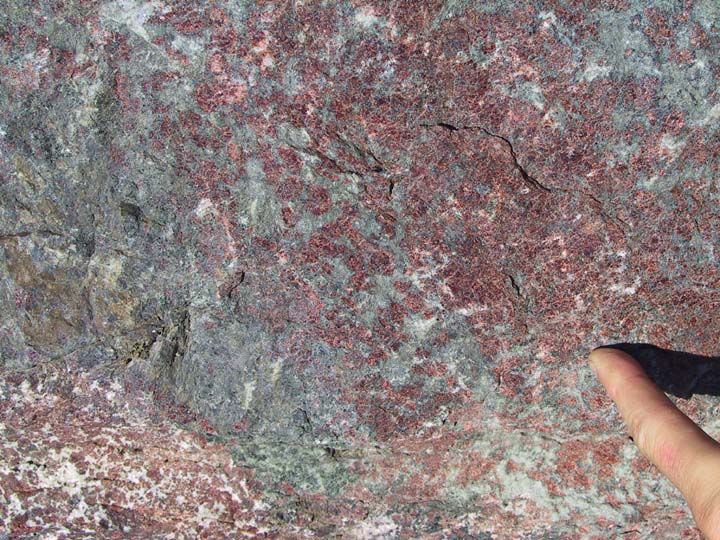 Link Between Elements and Minerals
Nine common mineral-forming elements
| element | mineral |
| --- | --- |
| Si | silicates |
| Al | most silicates |
| Fe + Mg | ferro-magnesian minerals |
| Ca | feldspar or epidote |
| Na | feldspar or jadeite |
| K | mica or K-feldspar |
| O | most minerals |
| H | hydrous minerals |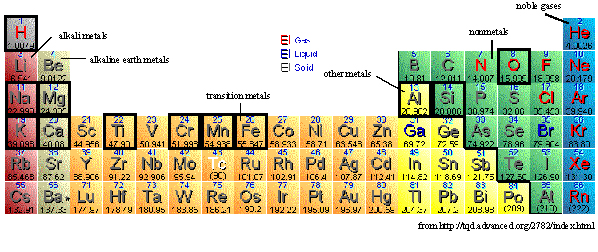 Next most common mineral-forming elements
| element | mineral |
| --- | --- |
| P + Y + Ce | apatite, xenotime, monazite |
| S | sulfide minerals |
| Ti | sphene, rutile, and ilmenite |
| Cr | amphibole, chromite |
| Mn | amphibole |
| Co + Ni | olivine |
| Zn + Li | staurolite |
| Sr | carbonate minerals, feldspars |
| Zr + Hf + U + Pb | zircon |
---
Part 1. Overview of Metamorphism and Tectonics
Part 2. Introduction to Metamorphism
Part 3. Physical Processes of Metamorphism
Part 4. Introductory Phase Equilibria and Thermodynamics
Part 5. Ultramafic Rocks
Part 6. Mafic Rocks
Part 7. Pelitic Rocks
Part 8. Diffusion
Part 9. Thermobarometry
Part 10. Kinetics
Part 11. Interaction Between Metamorphism and Deformation
Part 12. Metamorphism and Geochronology
Part 13. Metamorphism and Tectonics I
Part 14. Metamorphism and Tectonics II
Thermodynamics Notes